Monday 13th September
In maths we were collecting and presenting data in a bar graph. We collected 2 sets of data from the school car park and bike shelter.
In art P7DN were focussed on creating simple tactile art to link to our topic, Paralympics.  Our drawings were raised by using glue and strong before painted.  This is so a visually impaired person can feel them.
This week we were delving into our toolboxes of strategies to help with spelling.  We created syllable snap to help us break our words into syllables.  It was great fun!
P7DN practising their team work and football skills with Stephen.
Monday 6th September
In topic we noted down all the Olympic and Paralympic sports that we knew before organising them.  We got to draw on the tables that we loved!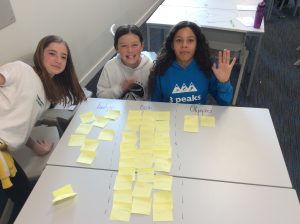 In our topic about the Paralympics we were looking at what sports there are and how they have been adapted to suit the different disabilities. We've been having great discussions about this and are very impressed at what some of the athletes are able to achieve!