Monday 11th October 2021
Hello.
In maths we worked on the grid method in multiplication.  We used place value counters to help visualise the numbers to multiply 2-digit numbers.  This really helped us to learn.
It was great fun to try Judo (the first time for lots of us).  We worked on our fitness as well as how to hold each other.  We get to flip each other next week!


Monday 4th October
We have been learning about prosthetic limbs. We learnt about how they work and then created a body-powered hands.
Monday 4th October
We have been working on the Zones of Regulation to help us understand out emotions and find strategies to deal with them.
Checking our partners understanding of their spelling words by creating sentences for them to write.  We would check the sentence after to ensure they had the correct spelling.
Learning the terminology of factors and multiples by playing a game with our partner.  After picking a number we either had to colour in a multiple of that number or factor of that number.  This kept on going until there were no numbers left.  It was tricky as it took us beyond our times table knowledge.
Monday 20th September
Active Schools took us for a football session this week. We all loved it and managed to get the gold award as a team!

Monday 13th September
In maths we were collecting and presenting data in a bar graph. We collected 2 sets of data from the school car park and bike shelter.
In art P7DN were focussed on creating simple tactile art to link to our topic, Paralympics.  Our drawings were raised by using glue and strong before painted.  This is so a visually impaired person can feel them.
This week we were delving into our toolboxes of strategies to help with spelling.  We created syllable snap to help us break our words into syllables.  It was great fun!
P7DN practising their team work and football skills with Stephen.
Monday 6th September
In topic we noted down all the Olympic and Paralympic sports that we knew before organising them.  We got to draw on the tables that we loved!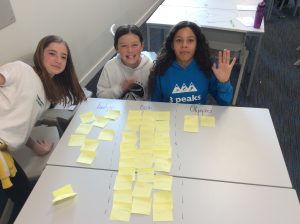 In our topic about the Paralympics we were looking at what sports there are and how they have been adapted to suit the different disabilities. We've been having great discussions about this and are very impressed at what some of the athletes are able to achieve!